Our Story
A Vision for World Class Training
Our Founder
"I started the Academy of Makeup in response for a true, industry-based training facility of the type, that until now, has not been available in Australia." Back in 2001, there was little in the way of professionally operated, modern and progressive Makeup Training Academies. The Academy of Makeup was founded in order to change all of that. Our goal was to create a place for the highest quality vocational learning in the field of makeup education. Most importantly, we wanted to create a place that supported the needs of the makeup industry.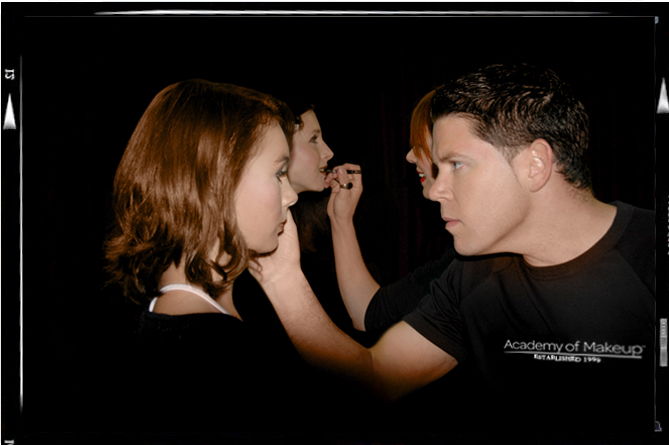 Our Founder, David McConnell was a well known Makeup Artist and Hair Stylist and started the Academy by teaching personalised one-on-one training classes for fashion stylists, up-and-coming Makeup Artists and beauty professionals. Being a professional Hair and Makeup Artist himself, David knew what was important for up-and-coming Artists to learn. He also knew exactly what the industry wanted and would demand of them and so he developed an amazing course, to ensure that they would be nothing but the very best Makeup Artist when they graduated.
Today, David is still the owner of the Academy of Makeup and has a very active involvement in the development of the school's curriculum.
School History
Our first campus opened in 2001 and was located in the funky, young designers fashion district of Prahran in Melbourne. After participating in countless high profile events such as L'Oreal Melbourne Fashion Festival, Chapel on Chapel, Fashion@Fed, Spring Racing Carnival, HBIA Fashion parades, The Age Sunday Magazine fashion shoots, Fashion Week, Arena TV Style Expo, to name just a few, word of mouth, quickly spread the message that our highly focused training methods were producing top-notch graduates, with great industry skills, brilliant reputations and most importantly, professional on-set etiquette.
Following the opening of our Sydney Campus in 2006 and then our Brisbane Campus in 2008, the 2 courses we originally started off with have now expanded into 4 comprehensive makeup training programs that are offered full time, part time, and after hours.  
The Academy of Makeup (AOM) has also expanded globally with the 2014 opening of our Los Angeles (USA) Campus, at which all students have the opportunity to undertake International Post Graduate studies.   Industry Pro's such as Emmy Award Winning Makeup Artist Kevin Bennett, and renowned industry insiders such as Rob Burman, as well as Celebrity Artists Donald Simrock, Megan Sutherland and Adrienne Sanchez have graced our classrooms, as our talented Guest Artist Team. Adding this to your resume is both eye opening, and career door opening!
Each year, the AOM trains hundreds of students from around Australia and beyond in a variety of make-up techniques, methods and styles.   Our Instructors have many years of extensive industry experience and they are all taught to train, using our specialised AOM Training Methods, which cater to all learning styles, no matter if you are someone who learns by seeing, or by hearing, or by actually doing. If you study with us, we will tap into your personal learning style and teach you in a way that brings out the Artist inside you.
As an AOM student, from day one, you'll be immersed in all aspects of makeup artistry, starting with the basics and developing into the intricate fundamentals. Our students come to us with aspirations of working in the fashion, editorial, entertainment or retail cosmetic industries and we give future Artists the opportunity to discover their own unique style under the training and guidance of our professional and experienced Instructors.
Our Instructors
Each AOM Instructor has their own professional expertise (and years of experience in) in film, television, editorial, fashion and SPFX. Our team has worked on everything from Fashion Week (Melbourne, Sydney and New York), the International Makeup Artists Trade Show, the Logies, the Australian Ballet, the Grand Prix, Home & Away, Australian Idol, Unbroken (by Angelina Jolie), Belle Magazine, Super Model Erin Heatherton, Aria Music Awards, MTV Awards, Kayne West performers, Network Channels, 7, 9 and 10, Kong:Skull Island, Mad Max, Pirates of the Caribbean, Cleo, Marie Claire, OK, New Idea, Oyster, Rolling Stone, Style, Kate Ritchie, Missy Higgins, Powderfinger, Silverchair, Coca Cola, Subway, Libby Trickett, Cameron Smith – we could keep on going, but do you have time for us to list more!!
Your aspirations will begin to come alive as you blend your own personal talents with your newly learnt skills in makeup artistry, taught to you by our talented Instructors.  
Accreditation and more
The Academy of Makeup is a Registered Training Organisation (Provider #21399) and is bound by the "Standards for Registered Training Organisations", issued by the Australian Skills Quality Authority.
We are also a member of the Australian Council for Private Education and Training.
Additionally, we have association with and membership of many other relevant industry organisations such as the Hair and Beauty Industry Association.
Lastly, we use nothing but the best industry products, tools and equipment in our classrooms. You'll find true industry brands from around the world at each campus, including the leading airbrush brand "Temptu Pro", Ben Nye, Mehron, Kryolan, Gorgeous Cosmetics, Duo, Sticks and Stones and many, many more
And now…
If you're serious about pursuing a career as a Makeup Artist, then look no further than the Academy of Makeup. From our meticulously designed school interiors, to our talented and experienced training team, to the high calibre products we use in class, we believe we lead the way in makeup artistry in Australia.
Our curriculum is broad and we offer a wide selection of courses because we believe in offering you the best choices for developing your career. Some other schools only offer courses they can get funding for…are they really taking your interests to heart by doing that?
Or world is inspirational and exciting and we invite you to join us and become a part of it!
Please Enjoy, Learn and Be Creative!"